Yokohama Factory Head Office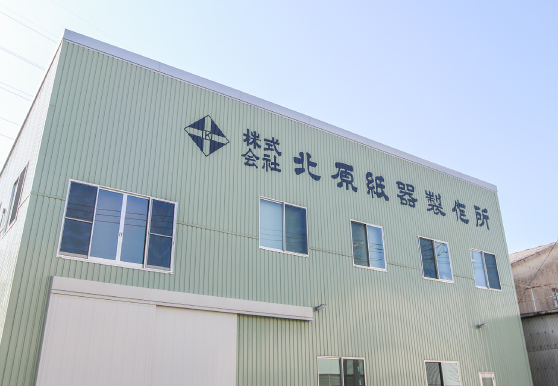 ISO14001:2015 certified factory
Our Yokohama Factory is situated in an ideal location near Shinyokohama, which is only a few kilometers away from the Keihin region, a distribution base for many customers.
This factory is equipped with various equipment, technical capabilities that have accumulated over the years, practical production and distribution systems that meet customers' demands to act as an integrated leading facility of our group.
Also, by utilizing our accumulated knowledge about packaging designs, we not only started advocating for environmentally-friendly recyclable packaging, but also actively participated in community activities. We received the Best Factory award in Kanagawa Prefecture.
〒223-0057
1254 Nippacho, Kita-ku, Yokohama City, Kanagawa
TEL/045-531-8581 FAX/045-531-8599
Directions
[By Train]

Approx. 5 minute walk from Nippa Station on the Blue Line Yokohama Municipal Subway
(You can take a Blue Line train from Shinyokohama Station)
[By Car]

Approx. 10-minute drive from No. 3 Keihin Kohoku IC
Ibaraki Factory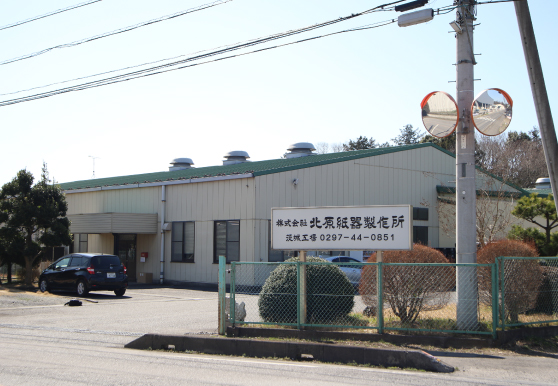 ISO14001:2015 certified factory
Our Ibaraki Factory is located near Tsukuba Science City and is in charge of everything from planning and designs to the manufacturing of packaging products for overseas where high-level functions are required. We have actively promoted technical innovation and developed cutting-edge packaging technology with the close partnership we have with Canon Inc. The factory has engaged in a wide range of activities, such as the development of pioneering corrugated plastic cardboard sheets and Returnpacks for environmental protection, recycling of containers and trays and expanding our business in a vacuum forming field using degradable polyethylene, etc. We will continue to strive as a company that engages in technological development in the future.
〒306-0515
1970-1 Kutsukake, Bando City, Ibaraki
TEL/0297-44-0851 FAX/0297-44-0855
Directions
[By Train]

Approx. 105-minute walk from Kanto Railway Joso Line Ishige Station
[By Car]

Approx. 6 minutes from Central Nippon Express Way Bando IC
Yamagata Factory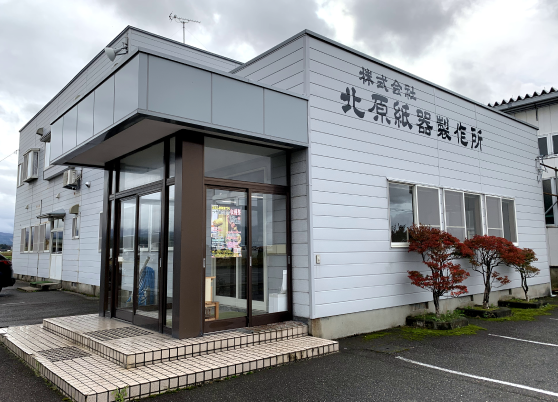 ISO14001:2015 certified factory
Our Yamagata Factory is located in the Shonai Plain spread at the bottom of Mount Haguro. The factory is surrounded by beautiful nature. Since its establishment, we have focused on community-based business operations that value local culture and community networks as the factory's business policy. People in our community appreciate our efforts and we are trusted and received high praise from powerful local companies and public offices such as agricultural associations. We will continue to contribute to our local community's development and prosperity in the future.
〒999-7645
6-2 Yokotate, Heisoku, Tsuruoka City, Yamagata
TEL/0235-64-3985 FAX/0235-64-5515
Directions
[By Train]

Approx. 50-minute walk from JR Uetsu Main Line Fujishima Station
[By Car]

Approx. 25 minutes from Yamagata Expressway Tsuruoka IC
Akita Factory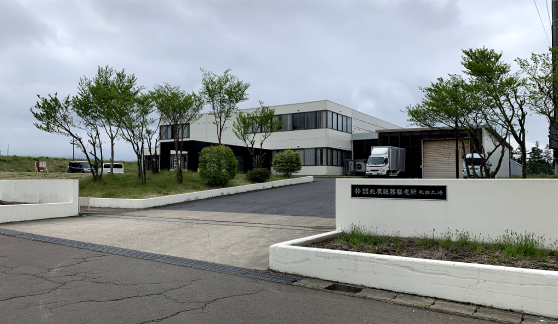 ISO14001:2015 certified factory
Our Akita Factory is located in Kazuno City, a border city between Aomori Prefecture and Iwate Prefecture near Lake Towada. It has been a member of our Group since July 2019.
〒018-5331
1-7 Uenotai, Towadayamane, Kazuno City, Akita
TEL/0186-35-2013 FAX/0186-35-2015
Directions
[By Train]

Approx. 60-minute walk from JR Hanawa Line Towada Minami Station
[By Car]

Approx. 10 minutes from Tohoku Expressway Towada IC
Chiba Factory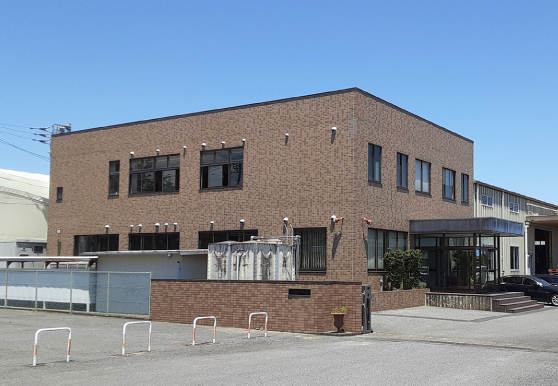 ISO14001:2015 certified factory
The Chiba Factory is located in the central eastern part of Chiba Prefecture, in the Tokyo metropolitan area of urban employment, and in the semi-commercial central city that forms the Mobara commercial area.
Utilizing a location that covers the entire prefecture, we offer speedy, one-stop products and services that meet the diverse needs of our customers.
As a company involved in the manufacture of "cardboard," which is a representative of recycled products, we practice reliable corporate activities. In addition, we will contribute to the development of the local economy as a leader in building a recycling-based society by using a power generation business that uses natural energy.
1860 Togo, Mobara-shi, Chiba 297-0017, Japan
TEL/+81-475-22-5245 FAX/+81-475-24-9628
Directions
[By Train]

Approx. 20-minute walk from JR Sotobo Line Soga Station
[By Car]

Approx. 25 minutes from Ken-O Expressway Mobara Nagara Smart IC
Thai Kitahara Ltd. (Ayutthaya Factory)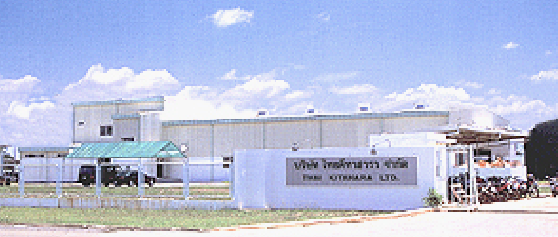 ISO14001:2015 certified factory
ISO9001:2015 certified factory
The Ayutthaya Factory was established as a local subsidiary in Thailand in 1994 as the first step toward our internationalization, and the factory began operations in September 1995.
Facing the Chao Phraya River, Ayutthaya Province has developed as an urban international trading hub since the 17th century, and due to such history, a multitude of Japanese companies have steadily been expanding into the area.
Against this backdrop, our company has been consistently planning, designing, manufacturing, and selling packaging materials, emphasizing quality, cost, and delivery, so as to meet the needs of Japanese companies in this region, as well as to humbly contribute to local production activities.
Saha Rattana Nakorn Industrial Estate 121
Moo 4 Bangprakoo Nakornlung
Ayutthaya 13260 Thailand
TEL/(66)35-364466 FAX/(66)35-716640
Thai Kitahara Ltd. (Kabinburi Factory)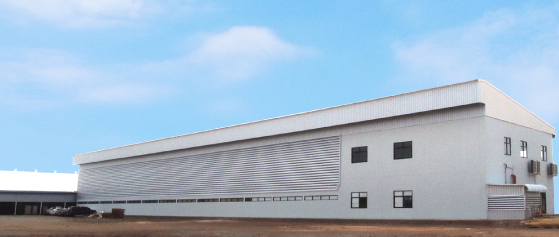 ISO14001:2015 certified factory
ISO9001:2015 certified factory
The Kabin Buri Factory was opened as a branch office in October 2015 and began operations as a factory in February 2019.
In addition to manufacturing and selling corrugated cardboard, we utilize the packaging technology that we have cultivated so far to consistently plan, design, draw, and manufacture plastic cardboard containers and foam cushioning materials.
The opening of this factory has allowed us to provide further value to customers in the central region of Thailand in general.
Hi-Tech Kabin Industrial Estate
341 Moo 10 Ladtakhien, Kabinburi,
Prachinburi 25110 Thailand
TEL/(66)37-218552 FAX/(66)37-218554
Thai Kitahara Ltd. (Chonburi Factory)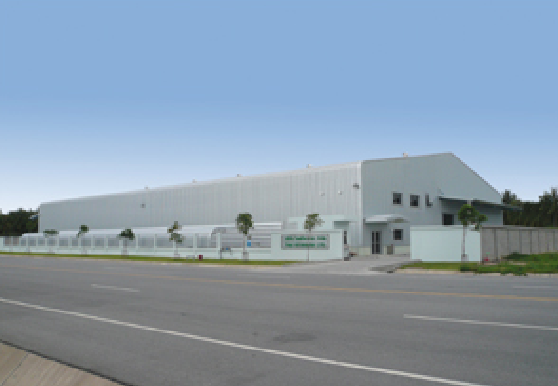 ISO14001:2015 certified factory
ISO9001:2015 certified factory
Our Chonburi Factory was established in May 2007 as our second base in Thailand.
It is located about 20 minutes from the port city of Laem Chabang. Here, in response to requests from many companies, we consistently carry out planning, drawing, design, and quality evaluation in the manufacturing of packaging for overseas export.
As a basic policy, we strive for a system that adds further value for our customers via environmental protection, quality assurance, cost reduction, strict adherence to delivery dates, and prompt service.
Pinthong Industrial Estate150/29 Moo.9T.Nong-Kham, A.sriracha Chonburi 20110
TEL/(66)38-347037 FAX/(66)38-347036